A good frying pan, like a good man, can often times be hard to find.
I'm notoriously hard on my pans. They go in the dishwasher. I sometimes use metal utensils in them. They get packed up for camping excursions. They get A LOT of use. In the past, this heavy duty abuse meant buying replacement pans every year or so when the non-stick inevitably started peeling off and threatening to slowly poison me.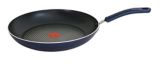 Then three years ago I spotted a hell of a deal at Canadian Tire – T-Fal Air Grip pans on for 70% off. Not only did they have a non-stick coating designed to put up with abuse from metal utensils but they were dishwasher safe and had a silicone coated metal handle that meant they were oven safe too. I bought two 12″ pans for $20 each and they're still going strong today!
T-Fal Air Grips are sale for the next week at that same amazing $20 price ($17 for the 10″ size) so if you (or someone on your holiday gift list) is in need of a few fry pan, I'd recommend picking one up.